Iris Meaning and the Fleur-de-Lis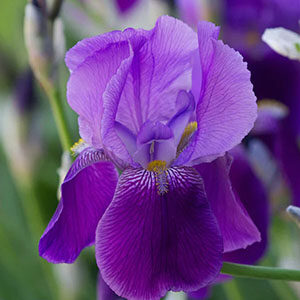 Iris meaning is faith, wisdom, cherished friendship, hope, valor, my compliments, promise in love, wisdom. Find other Flowers Meaning Friendship. Irises were used in gardens devoted to the Virgin Mary. The blade-shaped foliage denotes the sorrows which "pierced her heart." Find other Flowers Meaning Love. 
Iris Meaning and the Fleur-de-Lis
The iris is the emblem of both France and Florence, Italy. The fleur-de-lis, one of the most well-known of all symbols, is derived from the shape of the iris flower. The fleur-de-lis is a symbol of the royal family in France and is the state flower of Tennessee. Find other flowers meaning faith. Read more about purple flower color meaning.
Iris Name Meaning
The name is derived from the Greek word for rainbow. Blessed with the colors of the rainbow and the purest white, the iris has been recognized as the spirit of early summer. 
Iris Meaning in China
Its soft, fluttering petals remind the Chinese people of butterfly wings, flapping gently in the breeze. The flower is known as Tze Hu-tieh or "The Purple Butterfly."
Growing Iris Flowers
Iris flowers are a genus with 200-300 flowering varieties. Irises are grown from bulbs or rhizomes and have long, flat leaves. Irises are used widely in gardens, especially the bearded varieties. Irises are easy to cultivate and propagate.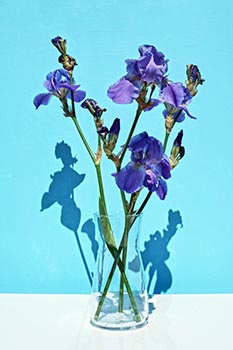 The information in this article has been excerpted from the book Flower Symbols: The Language of Love by Kathleen Karlsen. This book includes ancient and modern flower meanings and folklore about the world's most beloved flowers. Buy one for a flower lover in your life. Learn to "say it with flowers" for any occasion! 
Over 100 of the world's most beloved flowers
Information about traditional uses of flowers
Famous quotes about flowers
Selected flower-related poetry
Flower remedies and essential oils for healing 
Selected Floral Art & Gifts
Brighten up any space with gifts and decor featuring beautiful flowers! Find posters, canvas prints, coffee mugs and more. All products made in the United States. 
Other Flower Resources on the Web