Calla Lilly Meaning in History, Religion and Art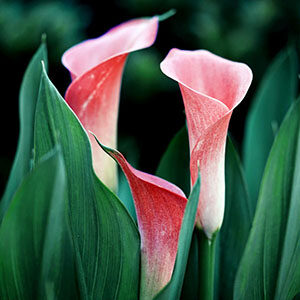 Calla lily meaning is magnificent beauty. Calla lilies also mean faith and hope. Find other flowers meaning beauty, flowers meaning hope and flowers meaning faith.
Calla Lily Meaning and the Romans
The Romans associated calla lilies with winter solstice, the darkest day of the year. Calla lilies were forced to bloom indoors to celebrate the preservation of the light and to bring this flower meaning light indoors.
The Romans also viewed the flower's large spadix, a phallic flower stalk containing many male (pistillate) and female flowers as a symbol of lust and sexuality.
Calla Lily Meaning in Christianity
The calla lily was a sacred flower to the Minoans and also prized among the ancient Jews. In Christian iconography, calla lily  meaning is purity, chastity and the ascension. As calla lilies have shifted into prominence, they have become a popular wedding flowers.
Calla Lily Meaning for Funerals
Calla lilies are also often associated with funerals. Calla lilies are a symbol of death and associated with funerals. In this capacity, calla lilies have been placed on the graves of youth who have suffered untimely deaths.
Calla Lily Meaning in Art
Georgia O'Keeffe successfully brought the calla lily to prominence with her series of close-up paintings of single calla lily flowers. She wanted to have the viewer really look at the fundamental form of the flower without any preconceived notions.
Her sensual flowers redefined calla lily meaning through a pure, almost geometric form. The calla lily is also visible in many of Diego Rivera's works of art.
Origin of the Calla Lily Name
The calla lily is not actually a lily, but a separate genus. Although the calla lily was known in ancient Rome, it was first catalogued in modern times, probably in the mid-1700s, and misnamed by the famous Swedish botanist Carolus Linneaus. Later the German botanist Karl Koch found the error and established a new genus, zantedeschia, for the calla lily and related flowers. However, the original common name of "calla lily" has continued to be used.
Growing Calla Lilies
The calla lily is a flowering genus of twenty-eight species growing mostly in marshy areas. The calla lily grows continuously in water and can survive mild frost. Calla lilies make hardy cut plants and can survive for quite a while in vases. A single calla lily in a tall vase is a classic statement of elegance and beauty.
Calla lilies are native to southern Africa. On the African island Madagascar, the calla lily thrives due to the steady temperatures and moderate seasons. Calla lilies will bloom all year around as long as they have a sufficient supply of water, energy and nutrition. Read more about pink flower color meaning.
The information in this article has been excerpted from the book Flower Symbols: The Language of Love by Kathleen Karlsen. This book includes ancient and modern flower meanings and folklore about the world's most beloved flowers. Buy one for a flower lover in your life. Learn to "say it with flowers" for any occasion! 
Over 100 of the world's most beloved flowers
Information about traditional uses of flowers
Famous quotes about flowers
Selected flower-related poetry
Flower remedies and essential oils for healing 
Selected Floral Art & Gifts
Brighten up any space with gifts and decor featuring beautiful flowers! Find posters, canvas prints, coffee mugs and more. All products made in the United States. 
Other Flower Resources on the Web