Vocal Medicine: Transformation Through Sound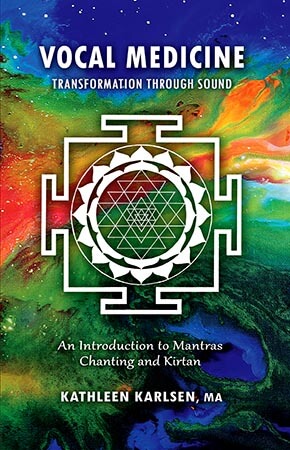 Vocal Medicine reveals Kathleen Karlsen's personal journey with mantras, chanting and kirtan. This book is also the culmination of years of research into the power of sacred art and sacred music.
Features extensive illustrations by Rose Karlsen. Includes musical notation and descriptions of over two dozen mantras and chants for transforming the body and mind. 186 pages, 30 illustrations, $15.95 Paperback, $9.95 PDF
Topics include:
Improved emotional health through mantras
Create a happy brain through singing
Mantras, sound and the chakras
Connections between sound, color and healing
Bija syllables and the building blocks of sound
Vocal Medicine Table of Contents
Part I: Introduction to Mantras
1: Reforge Your Heart with Mantras
2: Science of Mantras
3: Building Blocks of Sound
4: Formulas for Freedom
5: Sounds of the Cosmos
Part II: Transformation and the Chakras
6: Wheels of Fire-Seven Chakras
7: Establishing Safety-Base Chakra
8: Healing Relationships-Sacral Chakra
9: Honoring Intuition-Solar Plexus Chakra
10: Giving Devotion-Heart Chakra
11: Mastering Power-Throat Chakra
12: Holding a Vision-Third Eye Chakra
13: Finding Unity-Crown Chakra
Part III: Enhancing the Power of Mantras
14: Synergy of the Body and Soul
15: Sound, Color and Kirtan
16: Mantras and Yantras
Part IV: Songs of Transformation
17: Finding Bliss through Kirtan
18: Goddess Chants
19: Chants for Peace
 20: Chants of Divine Love
21: Chants of Victory
Responses from Readers to Vocal Medicine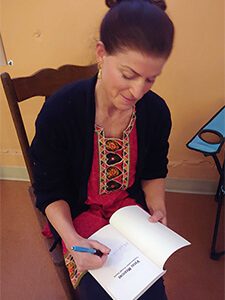 Kathleen Karlsen, Book Signing in Boise, Idaho
Share with a friend today!