Explore the deeper mysteries
of sacred music & symbolic art.
Discover the power of sound and music for emotional and spiritual freedom.

Delve into the psychology of symbolism, transformation and sacred art.

Find new revelations in metaphysics, ancient mysteries and modern science.
Our answers to the question of deity meaning may tell us more about ourselves than about God! Some anthropologists suggest that we create God in our own image rather than the other way around. Indeed, many of the beings that are purported to inhabit other dimensions have very human-like characteristics.
Others believe that many deities are based on historic figures. This may be true in other cultures as well. This doesn't necessarily denigrate their status. In fact, this may make forms of the deity more relatable and easier to emulate. 
More videos on YouTube.
I saw the man I was going to marry in a dream. This is the story of what happened when I married someone I hardly knew. A recollection of my life as an idealistic and impulsive youth.
Lesson learned: Faith in anything– dreams, psychics, astrology, gurus, religions, counselors, friends, books– does not exonerate one's personal responsibility. Adulting isn't easy.
Created July 2022. Thanks to Joey Karlsen and Andrew Karlsen for editing and assistance.
More videos on YouTube.
The Earthworks movement, a unique part of the history of contemporary art, clearly had something to say about society, technology and modern culture. 
The tradition of prehistoric monuments and their possible esoteric meanings was a passionate interest among the underground culture in the 1960s and 1970s. Learn more in Earthwork Examples.
Fascinating information about the folklore, history, symbolism and uses of the world's most beloved flowers. Info on over 100 flowers.
SAVE when purchased directly on this site.
• Improved wellness through music
• Create a happy brain with mantras
• Experience emotional balance
SAVE when purchased directly on this site.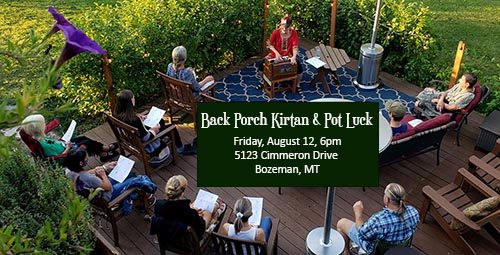 Back Porch Kirtan & Pot Luck (Bozeman, MT)
Come join us for community and sacred music! Pot luck at 6pm, music around 7pm. Bring family, friends and a favorite dish to share.
Music with Kathleen Karlsen & others. Donations welcome. No charge.
Location: 5123 Cimmeron Drive, Bozeman, Montana. 
Date: Friday,August 12, 2022
Time: 6pm
Contact Kathleen Karlsen at 406-599-3235 for more info. 
Join us to explore the science of the brain and the power of mantras and music. Discover how sound stimulates endocrine glands to regulate sleep patterns, decrease anxiety and increase well-being.
Contact Kathleen Karlsen at 406-599-3235 for more info. 
Upcoming Date/Location
Sept 11 2:00-3:30pm Limber Tree Yoga, Billings, Montana