Welcome! We offer resources related to symbolic art, music, science & psychology.
NEW articles and videos every week. SUBSCRIBE in the footer below for notifications.
Thank you for using our videos, articles, artwork and products to support your life's journey!
Explore the fundamental sounds of mantras and Sanskrit. An introduction to the energies of nature and the chakras. Over 90 minutes of videos in ten segments. Explore full  mantra course. 
Enrich your life with the deeper meaning of flowers. Learn about flower symbolism in art and gardens. See all Flower Symbolism articles and resources.
Vocal Medicine album tracks available for listening, chanting and meditation. Experience the benefits of devotional mantras and chanting on all levels. Listen to the Vocal Medicine album.
Ancient and modern forms of the deity are so varied as to be overwhelming. Here you will find music, information and illustrations for a selected number of forms of the deity. Take a look!
New Video December 4, 2021
Ganga Mata: Gange Mata is a Hindu goddess personifying the Ganges River. She is a deity meaning forgiveness and purification. Water is a symbol of purity in many spiritual traditions, used for cleansing and baptism.
Ganga is depicted riding on a Makara, an animal with the head of a crocodile and the tail of a dolphin. Some theologians believe that the crocodile represents the lower self or the reptilian mind over which Durga has gained mastery and control.
The word "ma, mata, mama" is an almost universal term referring to the divine feminine. 
More at Deity Meaning and Forms of God.
New Video December 2, 2021
The astrological mantra to the moon includes the seed syllable "cam" which connects to the fundamental vibration of the moon. In the Hindu tradition, the deity ruling over the moon is called Chandra. The name Chandra means "bright and shining" in Sanskrit. The moon in Vedic astrology represents the mind, including thoughts, feelings, and psychology.
Lyrics: Om Cam Chandryya Namaha
Pronunciation: Om Chum Chun-dri-yuh Nah-mah-ha
Meaning: I offer salutations for transformation of the energy of the moon.
More at Astrological Mantras.
Tales of Ganesha's origins differ widely. In some stories, Parvati created him from clay. Another legend says that Parvati created him from soap suds. Another myth claims that Shiva's laughter created him. A longer version of Ganesha's tale involves the separation and reunion of Parvati and Shiva. Read the rest of the story of Ganesha. Posted Nov. 25, 2021
Ever wondered why Ganesha has the head of an elephant? And what about the four arms? Learn about the origin of Ganesha and the symbols often associated with him. How did Ganesha become associated with new beginnings and the overcoming of obstacles? Learn more.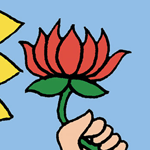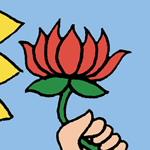 One of Ganesha's hands holds a lotus flower. This symbolizes the realized inner self. Learn the meaning of other symbols.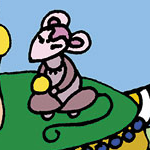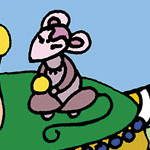 Enrich Your Life with Symbolic Art!
Sita Ram with Kathleen Karlsen and the Vocal Medicine Band:
Sita is a Hindu goddess known for good character and happiness. Sita is a deity representing courage, dedication and purity. Sita goes through many trials together with her consort Ram, including exile and the kidnapping of Sita.
Ram is one of the most widely known and revered of the Hindu gods. Ram is a form of the deity symbolizing sacrifice and brotherhood. Heis an incarnation of Vishnu and the central figure in the Hindu epic Ramayana.
Listen to full playlist of music videos.
Books by Kathleen Karlsen
Flower Symbols:
The Language of Love
Fascinating information about the folklore, history, symbolism and uses of the world's most beloved flowers. Info on over 100 flowers.
Vocal Medicine:
Transformation through Sound
• Improved wellness through music
• Create a happy brain with mantras
• Experience emotional balance
Music is an extraordinary tool! Transform your emotions, expand your consciousness and improve your well-being using mantras.
Kathleen Karlsen has lived an unusually dramatic life. As a child, she learned extraordinary discipline through watching her father as he slowly recovered from a near-fatal plane crash. At the same time, she was encouraged by her creative mother to explore art, poetry and Eastern philosophies. 
The founder of Living Arts Enterprises, mother of five, author of two books and leader of the Vocal Medicine band, Kathleen continues to push the boundaries of life in every direction. She shares her extensive research, favorite tools and experiences to encourage others on their own spiritual and personal journeys.
Living Arts Enterprises, LLC
Living Arts Enterprises, LLC was founded in 2001 by Kathleen Karlsen. The purpose of Living Arts is to explore the deeper mysteries of music, art, science and psychology. We hope that our resources will enrich and transform lives in a positive direction. The goal of all of our efforts is to bring comfort, inspiration and greater aliveness to all!