Welcome!
Explore the deeper mysteries of sacred mantras & symbolic art.
Listen to sacred mantras.
Enrich your life with symbolic art.
Attend a local event or arrange a workshop in your area.
Subscribe for notifications about new resources.
Kathleen Karlsen is a musician, artist and writer exploring the powerful connections between sacred mantras and symbolic art. Kathleen holds a bachelor's degree in studio art and a master's degree in humanities (art/music). She has over 20 years of experience teaching and writing. Kathleen has been on a spiritual path since her teenage years, spanning a wide range of traditions and philosophies, including spending over a decade in intentional communities. She now lives in Bozeman, Montana with her husband Andrew and their five children. Learn more.
Find a topic on this site!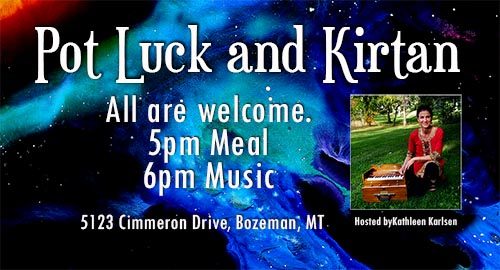 Pot Luck & Kirtan Event
Saturday, May 28, 2022
Bring your favorite dish to share. Estimate 15 people. Meal followed by about 90 minutes of chanting and mantras. All are welcome. No experience needed. Lyrics provided. Hindu, Buddhist and Western music. Contact Kathleen Karlsen at 406-599-3235 for more info or to RSVP (optional). No charge. Donations gratefully accepted.
Time: 5pm Meal, 6pm Kirtan
Location: 5123 Cimmeron Drive, Bozeman, Montana
Mantras in the Park
Wednesdays: June 1, 8 &15th
Join us for an hour of mantras and sacred music on the first three Wednesdays in June. Held in Story Mill Park, Bozeman, Montana. All are welcome. Bring friends and family! Lyrics provided. Donation-based event. Might want to bring a chair or yoga mat for seating.
Time: 6:30pm 
Location: Story Mill Community Park
Address: 698 Bridger Drive, Bozeman
The meaning of this chant is "Salutations to the beautiful dancing Nataraja, the Lord Shiva, whose consort is Shivakami. Honor to Shiva who is the master of the sky of consciousness. Nataraja is the lord of the city of Parthi."
Nataraja: king of dancing
Sundara: beautiful or handsome
Shivaraja: variation on the name of Lord Shiva, the royal Shiva
Shivakami: the beloved (wife) of Lord Shiva
Preya or priya: dear
Chidambaresa: the sky of consciousness
Parthi: city of Parthi
Puresa: lord of a place or city
The Medicine Buddha Mantra was a life raft for me for many months as my youngest son healed from a serious, unexpected surgery. The mantra has remained as a central part of my chanting repertoire. I find the Medicine Buddha Mantra appropriate for so many situations and for the world at large during challenging times.
The Medicine Buddha Mantra comes from the Mahayana Buddhist tradition. The oldest known references to the Medicine Buddha are texts from the seventh century. The Medicine Buddha is the name of a bodhisattva: one who has pledge to remain with earth until all beings are liberated.
A musical meditation featuring beautiful dahlias and sunflowers. Soothing and simple melody and lyrics. Many traditions associate the power of God with breath, fire, and wind. The Hebrew word meaning "spirit" is "ruach." This word literally means "air in motion." Sometimes "ruach" is translated as "life."
Sacred fire is often viewed as the power of transformation. Invoking sacred fire through speaking or singing is way to connect with this power. Water represents both purification and healing. The use of water in baptism is a symbolic sign of new life. In the East, prayers that are offered over water or fire are said to be more powerful.
Each of the organs in the human body are associated with one or more of the seven major chakras or energy centers. Chakras and organs give keys to creating optimal health on the emotional and physical levels.
The chakras and their corresponding organs can be stimulated and balanced through the use of mantras, acupuncture, meditation, visualization, herbs, yoga practice and other forms of exercise.
There are also sounds and musical instruments that resonate with each chakra. More information can be found in Chakra Sounds. There are also healing stones and crystals that connect to each chakra. See Chakra Stones and Meanings.
Yantras are geometric forms similar to mandalas that have been in use for thousands of years. In fact, there have been stones found in India with drawings of yantras dating back 10,000-12,000 years. Yantra meaning varies based on the associated mantra and the structure of the image.  Yantras are a central part of the ancient practice of using visual aids for meditation.
What do the geometric forms in yantras symbolize?
How are yantras used in architecture, astrology and healing?
How can you use yantras in your own life?
Learn more about the power and meaning of these beautiful symbols!
Resources for Sacred Mantras & Symbolic Art
Listing of all videos on this website for easy reference and exploration. Includes music videos, lectures on associated topics, commentary and life stories with Kathleen Karlsen. 
A comprehensive listing of articles on this website for easy reference. Articles are organized by category for quick research or extensive study on a particular topic.
Spiritual symbols, nature symbols, flower meanings and more. Learn about the chakras, world religions, yantras, symbolic art, and the language of flowers. 
Easy listing and locator for all music videos as well as explanations of mantras and songs. Includes Eastern and Western devotional music as well as traditional chants.
Flower Symbols:
The Language of Love
Fascinating information about the folklore, history, symbolism and uses of the world's most beloved flowers. Info on over 100 flowers.
Vocal Medicine:
Transformation through Sound
• Improved wellness through music
• Create a happy brain with mantras
• Experience emotional balance