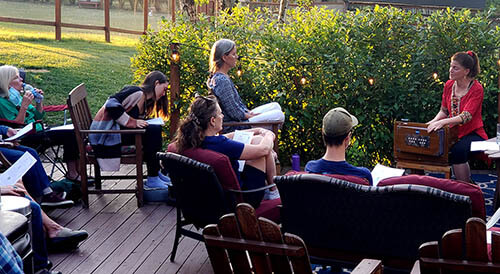 Mantras & Kirtan in Bozeman, Montana
The wide open spaces and big skies in Montana lend themselves naturally to a spiritual path based on gratitude for nature and a sense of awe. There is a thriving yoga community in Bozeman with plenty of diverse approaches and offerings. 
Bozeman itself is about 55,000 strong with an additional 17,000 students during the fall and spring semesters. Smaller towns in the vicinity add another 40,000 residents to the county. This growing population includes retirees, tech companies and outdoor enthusiasts.
Along with the steady growth, people new to the area looking for like-minded individuals can find both formal and informal groups exploring consciousness, spirituality and devotional practices. One of these is the practice of bhakti yoga, also known as kirtan or mantra yoga.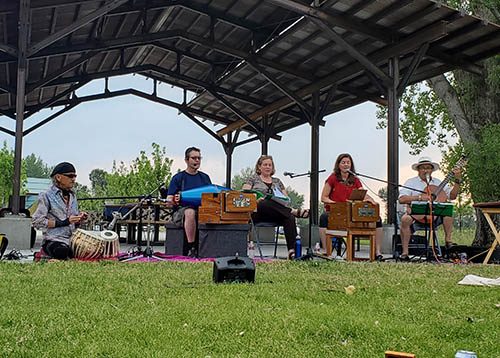 Local Kirtan Events and Leaders
There are a surprising number of kirtan leaders in the Bozeman area as well as kirtan musicians, sound healers and mantra lovers. Local kirtan leaders include Kathleen Karlsen, Eduardo Rodarte, Michael Koster, Faith Rose, Vandana Sood-Giddings, Khandro Kelly and others. Kathleen Karlsen leads kirtan at her home outside of Bozeman or in local yoga studios as well as the local library, parks and other natural settings. A favorite of hers is to sing and chant along the Yellowstone River!
Local kirtan leaders also join together for events on a regular basis, including a full-day Chant-a-thon held in December 2019. This event featured four kirtan bands, yoga classes, gongs with Gloria Overcash and Tibetan bowls with Brain Sparks of Livingston, Montana. More about upcoming Events.
Tibetan Culture in Bozeman
Tibetan culture is alive and well in Bozeman, Montana to a great extent through the efforts of Tsering Lodoe, a Tibetan opera singer and instrumentalist. Lodoe's music is featured on the soundtrack of Seven Years in Tibet and the movie Himalaya. He travels regularly around the country and the world performing at festivals and gatherings honoring Tibetan culture.
Originally from from Dharamsala, India, Lodoe is based in Bozeman and has been performing throughout Montana for several years. Lodoe's performances in the local area often involve supporting musicians including Kathleen Karlsen, Andrew Karlsen, Michael Koster, Mayela Koster, Eduardo Rodarte, Marius Michael-George and others.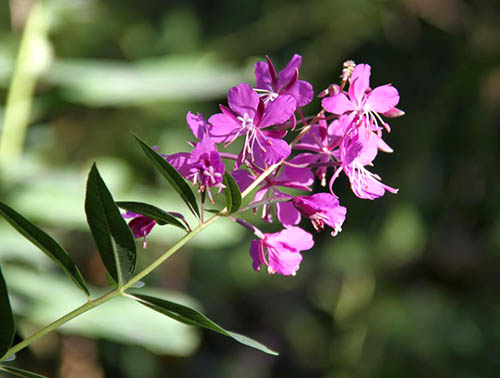 The Valley of the Flowers
There is a story told about the Gallatin Valley which nestles around Bozeman, Montana. A rock high in the Bridger Mountains is referred to as Maiden Rock. This is the place where a maiden appeared to stop a battle that was raging between the Nez Perce and the Blackfoot Indians in former days. On the third day of battle, darkness came over the sun. A sweet voice was heard singing. A white flame appeared on top of Mount Bridger. As the flame descended, a maiden was seen, bringing a message for all in a language that all understood:
"Warriors, children of the Great Spirit, sheathe the hatchet and unstring the bow. Shed not the blood of your brothers here, lest it mingle with yonder foaming water and defile the Valley of Flowers below. There must be no war in the Valley of Flowers; all must be peace, rest and love. The Spirit Maiden has spoken the words of the Great Spirit."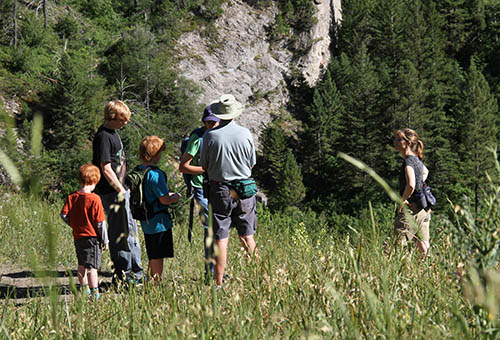 Living and Working in Bozeman
High tech businesses and the entrepreneurial spirit are also thriving in the clean mountain air. Small businesses handling both regional and national accounts are able to compete with larger businesses in less attractive environments as technology advances and the internet becomes the world's hub for information, products and services.
Montana State University is known for top-level programs in engineering, architecture, agricultural science and biosciences. In addition, Montana is rapidly becoming a home for artists and entrepreneurs drawn to its pristine environment and wide-open spaces. Montana residents are known for friendly personalities and a strong work ethic. The prestige of Made in Montana products is growing along with the state's reputation as the "last, best place."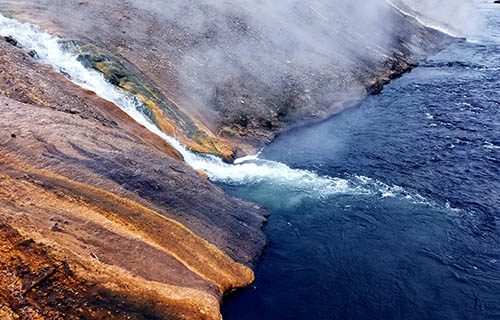 Gateway to Spectacular Parks
Bozeman's proximity to spectacular Yellowstone National Park (about 1.5 hours) and the Grand Teton National Park (about 3.5 hours) in the south and to Glacier National Park in the north (about 6 hours) is unbeatable. These national parks draw millions of tourists each year and provide camping, hiking and sight-seeing opportunities year-round.
Use Bozeman as home base to explore some of the most amazing vistas and natural sites in the country. Montana is rapidly becoming a destination spot for weddings, corporate conferences and a wide variety outdoor adventure vacations. Step outside your door into an array of mountain ranges: Bridgers, Absoroka Mountains, Crazy Mountains, Gallatin Mountains, Madison Mountain Range, Spanish Peaks, Tobacco Root Mountains and more!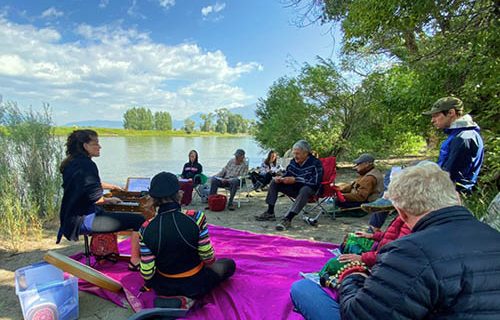 Expand Your Horizons
Come to Bozeman to enjoy the culture of healthy, conscious living. Find your tribe and the inner and outer space to expand your horizons. If you already love mantras and kirtan, your tribe is here! If this is a practice you've never tried, the opportunities abound. 
Subscribe to our mailing list or visit the Events page for kirtan and mantras with Kathleen Karlsen. Contact Kathleen if you are visiting or you are new in the area. Or reach out to schedule events throughout Montana or in your home town wherever that may be. Better yet, take a trip to Bozeman and you may never leave!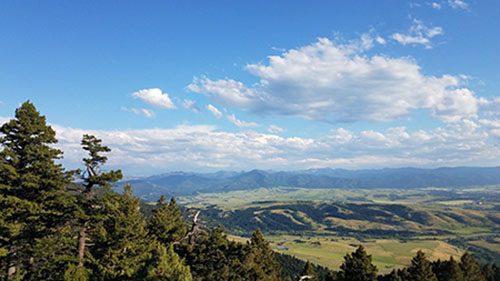 Come find your bliss in Bozeman, Montana!
Enjoy the bliss of devotional singing in multiple traditions! Kirtan is a form of devotional singing originating in India that is gaining popularity in the Western world. The word itself comes from Sanskrit. More at Everything About Kirtan. Chanting or kirtan is also known as Mantra Yoga. Mantras are formulas with distinct impacts on emotional, mental and spiritual states. Come join us for an Event soon!
Kathleen and her husband Andrew have made Bozeman, Montana their home for the last three decades. All five of their children have been raised in this beautiful little town, growing up with the opportunity to ski and hike, surrounded by mountains in every direction. Bozeman has enough big town amenities to keep you happy in a small town setting. Montana State University adds sporting events, musical events and a wide array of educational opportunities.
If you are looking to live in a place with fantastic scenery, great outdoor activities and a wholesome family environment, consider this growing town nestled in the mountains not far from Big Sky, a world class ski resort. You'll find that the culture and arts in Bozeman are expanding as more people are attracted to this unique location.
Montana Dream: What Convinced Me to Stay
I had an interesting dream at a time when I was considering moving from the rural state of Montana and the small town of Bozeman to a larger center where I thought I could find more in the way of sacred music and art. That dream changed my mind about relocating. This quick video tells the story of what my Montana dream meant and how the course of my life was altered.
In the backyard of our house, there was a small, beautiful pond with flowing water and overhanging grass and branches. I saw three ducks swimming, bobbing under the water and coming back up. They were wild ducks, not domestic and I was so happy they had chosen to come to swim in my backyard. As they came back up from under the water, I saw that each of them were a beautiful jewel color. One was sapphire blue. The next was emerald green and the last one was royal purple. I was delightfully surprised and entranced by their beauty. It was a VERY positive dream.
Ducks symbolize good fortune to come. Because ducks can swim, walk or fly, they represent flexibility and the ability to adapt to changes. The ducks coming up from under the water symbolize the subconscious. In this dream, beautiful and surprisingly wonderful things are coming up from the unseen: perhaps momentums or talents or acquisitions from past lives that are now going to be visible. They were partly seen, floating on the water, diving and then coming up. Their beautiful colors were most visible after they had come up from under the water.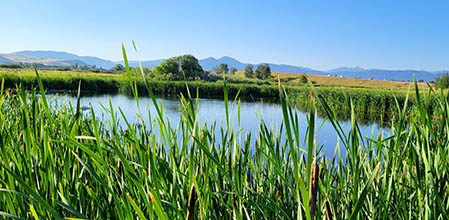 Ducks indicate positive times ahead. Ducks are a connection between the physical world and the spiritual world. They symbolize spiritual freedom. Ducks floating on a clear stream can symbolize a successful trip across the ocean. The ducks in my dream are diving under to catch nourishment and food. This is a sign that going into your subconscious will yield positive gains and support and fulfill your material needs. The floating duck indicates competence in handling your emotions and a successful conclusion to a difficult situation.
The duck has many avenues to flee from those who would cause harm: flying, walking, running, swimming, diving. The duck is a symbol of happiness and fidelity. Ducks represent spiritual growth. Ducks mean that you have many different skills that will move you forward in life. Multiple ducks mean that you will not give up easily. Ducks feeding is a positive omen. Water birds indicate that you will be successful, and your emotions will be stable. This is a great dream to have if you are starting a business!
It is favorable to see birds with colorful plumage in a dream. A beautiful bird represents goals that are coming to full fruition. Birds symbolize your career and the social side of life. They can symbolize a happy marriage. Birds are signs of financial increase. Brightly colored birds represent fertility and creativity: the production of wonderful new things. There are three birds in the dream. Three is a magic number of the Holy Trinity east and west. Each bird also has specific meaning based on their colors.
Purple bird: symbolizes prosperity and self-esteem. Purple is also connected to imagination and meditation. Purple represents service and Christhood. Blue bird: represents truth and honesty. It represents peace and kindness and your devotion to the task at hand. Blue represents power and the throat chakra. Green bird: represents balance and communication and the inclusion of nature and meditation. Green birds represent calmness and love of life. Green represents healing and intuition.
More About Bozeman
Visit the Bozeman Chamber of Commerce website.
Share with a friend today!