Kirtan, Workshops & Events
The list below includes regular, weekly events as well as special events. Locations vary. Charges for studio-based and workshops are indicated. Some mantra events and pot lucks are by donation. Please feel free to text or call me with any questions at 406-599-3235.  
Mantras on Mondays: An hour of mantras to the Divine Mother dedicated to the protection of children worldwide. All are welcome. No charge. Donations gratefully accepted. Held at 5123 Cimmeron Drive, Bozeman, MT. Led by Kathleen Karlsen.
World Music & Sacred Songs: Join us at 11am Sunday (Sept. 17th) for an hour of sacred songs of the East and West. Led by Kathleen and Andrew Karlsen in the Community Room of the Perennial Park Apartments at 1683 Tschache Lane, Bozeman. All are welcome! No charge. Donations gratefully accepted. Visitors please park on Sacco or Tschache Streets.
An Evening of Sound Healing: Healing mantras led by Kathleen Karlsen and accompanied by Brian Sparks on Tibetan bowls followed by a relaxing bowl session for everyone offered by Brian Sparks. Kathleen is dedicated to using the science of mantras to create a healthy brain, a happy heart, and a rejuvenated body. Brian is trained in the Nyingma bowl tradition of Tibetan Buddhism. Two hours of healing sound! Join us at 7:00pm on Saturday, September 23 at Emergence Movement & Wellness, 521 East Peach Street. No pre-registration required. $20 at the door.
FREE Introduction to Mantras & Kirtan: Discover the power of transformative sound! Learn mantras for health, peace and meditation. Experience the bliss of easy-to-sing mantras. Come join us for a free public event introducing the power of sound. Emergence Movement & Wellness, 521 East Peach, Bozeman, MT, Saturday October 21st, 7pm.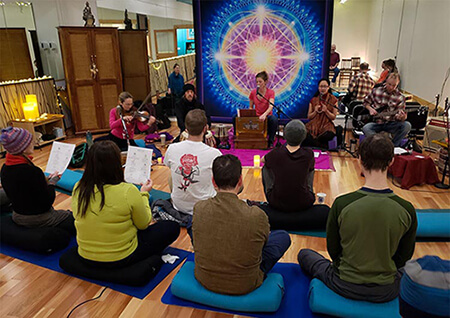 Vocal Medicine Kirtan with Special Guests: Saturday, November 23, 7pm, $20/person, Emergence Movement & Wellness, 521 E Peach St, Bozeman, MT. Details to follow.
Hare Christmas Celebration: Come celebrate the season at our seventh annual Hare Christmas party! Traditional Christmas carols and Krishna chants. Held at 5123 Cimmeron Drive, Bozeman, MT, home of Andrew and Kathleen Karlsen. Bring family & friends and snacks to share. All are welcome.
General Info: Mantra Workshops
Mantra workshops are an opportunity to take a deeper dive into the power of mantras. Workshops also include the role of sacred art, color and related modalities for healing on all levels. Workshops are a chance to ask questions and have the intimacy of discussions in a small group format. 
Workshops are generally 90 minutes to three hours depending on the topic and are generally offered from September through May. Kirtan, special events, retreats, and other get togethers are listed on the Events page. Learn more about kirtan in Everything About Kirtan. 
What to Expect at Events
Join us to experience mantras as powerful tools for self-transformation. No prior experience required. Lyrics and instruction provided as needed. Mantra and kirtan events consist of one to two hours of mantras, often focused on a particular topic such as healing or peace. You do not have to be a singer or musician to participate. In fact, you are welcome to meditate silently if you like. All are welcome! 
Kirtan events feature devotional singing in a group, sometimes in a call and response format. Although singing is part of every spiritual tradition, this particular form originated in India. Kirtan is now gaining popularity in the Western world. The word "kirtan" (pronounced KEER-tun or KEER-tahn) comes from Sanskrit. Kirtan specifically refers to devotional singing in mantras, chants and bhajans. Learn more about kirtan in Everything About Kirtan. 
Workshops are an opportunity for a deeper dive into a topic such as the building blocks of mantras, stories from the Vedas, or the connection between sacred geometry and sound. The smaller group format is a great chance to ask questions and explore various aspects of healing through music. Retreats are more extended events with a broader focus. Contact Kathleen Karlsen with questions or for more information.
Testimonials
Free Chanting Course
Free chanting course (Sounds of the Cosmos) includes over 90 minutes of videos in 10 segments, a course handout, full-color illustrations, and mantra lyrics. Available on this website and on YouTube.
Share with a friend today!