About Kathleen Karlsen, Vocal Medicine & Living Arts Studio
Kathleen Karlsen is a researcher, artist and musician exploring the powerful connections between sacred mantras and symbolic art. She has been exploring religious traditions, symbolism and the deeper mysteries in life since her teenage years. Kathleen's spiritual search has included living in  a spiritual community with rigorous daily devotional practices for over a decade. Kathleen holds a bachelor's degree in studio art and a master's degree in humanities. She lives in Montana with her husband and their five children. 
Learn more about Kathleen's life experiences, work, family, music, art and more. Kathleen has written 2 books, held over 70 art exhibits and more than 600 music events. 
Discover music as vocal medicine for body and spirit! Explore singing a spiritual practice through devotional chanting and mantras. More at Vocal Medicine.
Art has always been the core of Kathleen Karlsen's creative efforts. Her work is in private collections in over 20 states and 4 countries. Kathleen believes in the power of an uplifting environment and positive images.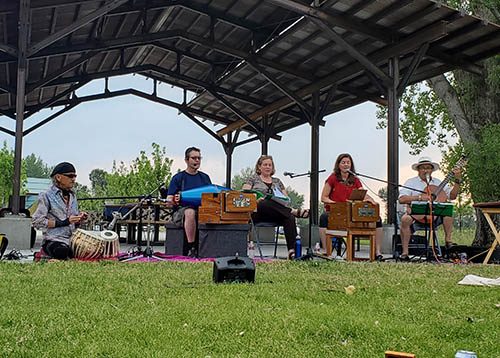 There are a surprising number of kirtan leaders in the Bozeman area as well as kirtan musicians, sound healers and mantra lovers. Local kirtan leaders include Kathleen Karlsen, Eduardo Rodarte, Michael Koster, Faith Rose, Vandana Sood-Giddings, Khandro Kelly and others.
Kathleen Karlsen leads kirtan on a weekly or bi-weekly basis at her home outside of Bozeman or in local yoga studios as well as the local library, parks and other natural settings. A favorite of hers is to sing and chant along the Yellowstone River!
Local kirtan leaders also join together for events on a regular basis, including a full-day Chant-a-thon held in December 2019. This event featured four kirtan bands, yoga classes, a gong program with Gloria Overcash and a Tibetan bowl session with Brain Sparks of Livingston, Montana. More about upcoming Events with Kathleen Karlsen.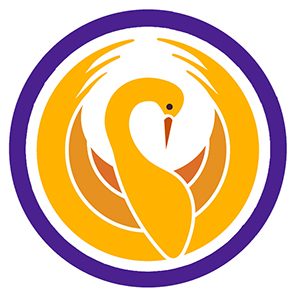 Living Arts Enterprises, LLC
Living Arts Enterprises, LLC was founded to promote the development of programs, courses, articles and other materials for those dedicated to uplifting and transforming themselves and their lives. Our goal is to help everyone to achieve their highest possible good on all levels.
We started our journey in 2001, working mainly in the natural health industry. In the last five years, we have deepened our focus on sacred mantras and symbolic art. We are grateful for support from individuals dedicated to personal growth, self-mastery and spiritual development.
The purple circle around the Radiant Crane logo represents the power of transformation. The crane symbolizes the power of the throat chakra, sound and creativity. The golden color connects to sunshine, joy, abundance and healing.