Daisy Meaning through the Ages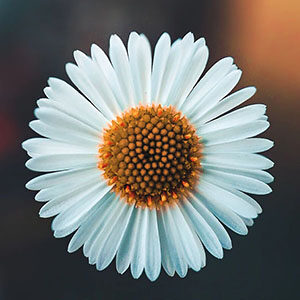 Daisy flower meaning is purity, innocence, loyal love, faith, beauty, patience and simplicity. Find other flowers meaning faith, beauty and love. Read about white flower color meaning. 
Daisy Meaning in the Middle Ages
Daisies are often depicted in meadows in medieval paintings, also known as a "flowery mead." Daisies are believed to be more than 4,000 years old and hairpins decorated with daisies were found during the excavation of the Minoan Palace on the Island of Crete.
Daisy Meaning in Egypt and in Christianity
Even further back, Egyptian ceramics were decorated with daisies. More recently, daisies were used in Mary Gardens, symbolic gardens created in honor of the Virgin Mary. The daisy is also symbolically connected to St. John. 
Daisy Meaning in the Flower Name
The family Asteraceae (known as the aster, daisy, or sunflower family) is the largest family of flowering plants. The name 'Asteraceae' is derived from the type genus Aster, meaning star. The family comprises more than 1,600 genera and 23,000 species. Asteraceae are most common in the temperate regions and tropical mountains.
The name daisy come from "day's eye" because the flower is only open during the day and closes up at night. Another name is "thunderflower" since it blooms in the summer when thundershowers are common. In addition, the daisy is believed to keep away lightening. For this reason, it was also kept indoors. A common name in England for the flower is bruisewort since the crushed leaves could be used for soothing bruised or chapped skin. 
Culinary and Medicinal Uses of Daisies
Commercially important plants in the daisy family include the food crops lettuce, chicory, globe artichoke, sunflower, safflower and Jerusalem artichoke.Other commercially important species include flowers used as herbs and in herbal teas and other beverages. Chamomile and calendula are grown commercially for herbal teas and the potpourri industry. Echinacea is used as a medicinal tea.
Daisy Photo Credit Kathleen Karlsen
The information in this article has been excerpted from the book Flower Symbols: The Language of Love by Kathleen Karlsen. This book includes ancient and modern flower meanings and folklore about the world's most beloved flowers. Buy one for a flower lover in your life. Learn to "say it with flowers" for any occasion! 
Over 100 of the world's most beloved flowers
Information about traditional uses of flowers
Famous quotes about flowers
Selected flower-related poetry
Flower remedies and essential oils for healing 
Selected Floral Art & Gifts
Brighten up any space with gifts and decor featuring beautiful flowers! Find posters, canvas prints, coffee mugs and more. All products made in the United States.