Bluebell Meaning: Stories from the Realm of Fairies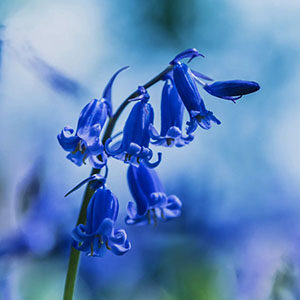 Bluebell meaning includes humility and gratitude. Many flowers that grow close to the ground mean humility. Find other flowers meaning humility. Bluebells also mean constancy and everlasting love. Find other flowers meaning love.
Bluebells are also closely linked to the realm of fairies and are sometimes referred to as "fairy thimbles." To call fairies to a convention, a bluebell would be rung.
Bluebell Meaning in Scotland
Bluebells are widely known as harebells in Scotland. The name derives from the hares that frequent fields covered with harebells. Some sources claim that witches turn themselves into hares to hide among the flowers. 
Bluebell Meaning and Fairies
Another name for bluebells is Dead Man's bells. In traditional lore, fairies cast spells on those who dare to pick or damage the beautiful, delicate flowers. The people of Scotland are fond enough of the flower to continue this tradition in the hopes of protecting the little flower.
Bluebell Meaning in Great Britain
A favorite flower around the world for many centuries, the bluebell is a particularly beloved flower in Britain. In British folklore, a person wearing a garland of bluebells must tell the truth. Additionally, if a person can turn a bluebell flower inside out without tearing the petals, they will win the one they love.
Bluebell Meaning and Death
English and Spanish bluebells literally mean death if eaten. All parts of the plant are poisonous. Eating these bluebells will cause vomiting, diarrhea and heart rate decrease.
On the other hand, Mountain bluebells are an edible variety that grow in the western United States on stream banks. The flowers can be eaten raw and the leaves can be eaten raw or cooked.
Mountain Bluebells grow in wet meadows, damp thickets and foothills in the western United States. This includes Montana, Colorado, New Mexico, Idaho, California and Oregon. 
Bluebell Meaning and Healing
Mountain bluebells also have medicinal uses. The Cheyenne Indians used Mountain bluebells medicinally. They used an infusion of leaves for smallpox and measles. After childbirth women took an infusion of the whole plant to increase milk flow. Powdered roots were used for itching from smallpox.
Bluebell Meaning and Color Symbolism
Although bluebells are almost always blue, there are white and pink varieties. These occur as natural mutations. Afterwards, they have been propagated to introduce new bluebell colors.
Blue flowers have highly positive meanings. In the natural world, blue is connected to water and the sky. Water is the source of life. In addition, blue skies mean optimism and possibilities. 
Accordingly, the color blue means freedom, strength and new beginnings. Blue is calming and cooling. Blue is related to both strength and peace. Learn more about the meaning of blue flowers.
Bluebell Meaning for White and Pink Varieties
On the other hand, white flowers symbolize purity, contemplation and innocence. Many night-flowering plants are white, symbolizing the feminine energies of the moon. Finally, pink flowers symbolize love and healing from grief, anxiety or emotional trauma. Pink is related to warmth, gentleness, beauty, and an outward orientation. Learn more about flower color meanings.
More About Bluebells
The delicate flowers hang from a central stem. Bluebells also feature narrow leaves in light to medium green. Many butterflies just leaving winter hibernation are fans of the bluebell's nectar.
Growing Bluebells
Bluebells are easy to grow. They can handle both sun and shade. They even thrive in neglected gardens. Bluebells are usually grown from bulbs. They reproduce by creating smaller off set bulbs as well as seeds.
Bluebells also grow in pots, tubs and urns. Most bluebells flower early in the year, usually from April through June.
Worldwide Bluebell Distribution
Bluebells are found in North America, Western Europe and North Africa. In some areas they are referred to as wild hyacinths. Bluebells grow in forests, grasslands, mountainsides, along the ocean and in brush areas. They are members of the lily family and native to Portugal and Spain.
The information in this article has been excerpted from the book Flower Symbols: The Language of Love by Kathleen Karlsen. This book includes ancient and modern flower meanings and folklore about the world's most beloved flowers. Buy one for a flower lover in your life. Learn to "say it with flowers" for any occasion! 
Over 100 of the world's most beloved flowers
Information about traditional uses of flowers
Famous quotes about flowers
Selected flower-related poetry
Flower remedies and essential oils for healing 
Find Floral Art & Gifts
Brighten up any space with gifts and decor featuring beautiful flowers! Based on original paintings and designs. Find posters, canvas prints, coffee mugs and more. All products made in the United States.
Other Bluebell Meaning Resources (Web)