Tulip Meaning: Colors, History, Tulipmania & Holidays
Tulip meaning includes fame, freedom and perfect love. However, this is only the beginning! Other meanings are conveyed by tulip colors. Tulips are one of the most admired and beloved flowers the world around.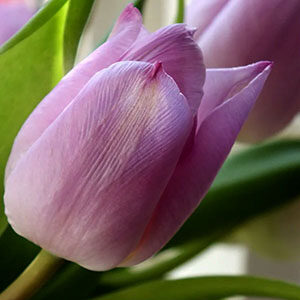 Tulip Meaning by Color
The symbolic meanings also change with the color of the tulips. Individual flowers, bouquets and gardens of tulips have their own meanings. The meaning of the garden can be encoded in the choice of flower colors. For example, a white tulip garden would symbolize heaven on earth. For a complete article on flower colors, see Flower Color Meaning in Gardens, Art & Gifts.
Red tulips mean "believe me" and are a declaration of true love. Yellow tulips mean "there's sunshine in your smile" and cheerful thoughts. Multicolored tulips mean "you have beautiful eyes." Cream-colored tulips mean "I will love you forever." White tulips symbolize heaven, newness and purity. Purple tulips symbolize royalty. Pink tulips mean affection and caring. Orange tulips mean energy, enthusiasm, desire, and passion.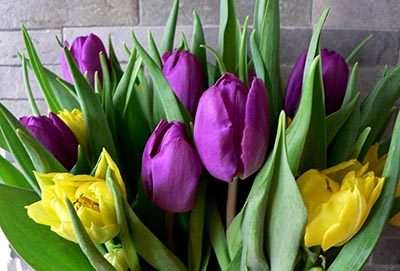 Tulip Meaning and Holiday Celebrations
Tulips mean eternal life. They are heralds of spring. Along with crocuses and daffodils, tulips are the first flowers to blossom each year. Sometimes there is still snow on the ground nearby. Tulips are perfect for gardens designed to bloom from the earliest possible date.
Tulip Meaning for Easter Celebrations
As the heralds of spring, tulips are popular Easter flowers. To celebrate the cycle of growth and the return of warmth and abundance after the long winter, bright bouquets featuring yellow tulips, pink tulips, orange tulips, red tulips and variegated tulips are all perfect for centerpieces during the Easter season.
Tulip Gifts for Mother's Day
For Mother's Day, the first Sunday in May, tulips can be sent as either cut flowers or a potted plant. Pink tulips are ideal for Mother's Day, expressing warmth and affection. Red tulips are another good choice. Other popular Mothers Day Flowers include carnations, daisies and yellow roses.
Tulip Meaning for Spring Birthdays
The same symbolism of spring and eternal life makes tulips perfect birthday gifts for those with spring birthdays. The beauty and simplicity of a bouquet including tulips, especially orange tulips, makes a strong statement of joy and happiness.
Tulip Meaning for Graduations
The achieving of a major accomplishment often sets the stage for the next step or level. This is a sign of growth and new opportunities that perfectly match the flowers that herald the new cycle of spring each year. Tulips are wonderful graduation gifts since these celebrations usually take place in the spring or early summer.
Tulip Meaning for Baby Showers
As symbols of new life, tulips are a great choice for a baby shower or as a gift for a new baby. Pink tulips (for girls) and yellow tulips (for boys) are probably the best bets. If the gender of the baby is unknown, white tulips symbolizing heaven, newness and purity would be a great choice or orange tulips meaning energy and enthusiasm.
Tulips for the Christmas Holidays
Although you might not think of tulips for the Christmas and winter holiday season, red tulips are a striking and somewhat exotic display, reminding everyone in the darkest time of the year of the coming of spring.
Red tulips combine well with berries, green foliage and colorful sprays and can brighten up any holiday table or make a unique gift for those you love or an end-of-the-year thank you for business associates and clients. Consider displaying or gifting a cheery holiday bouquet!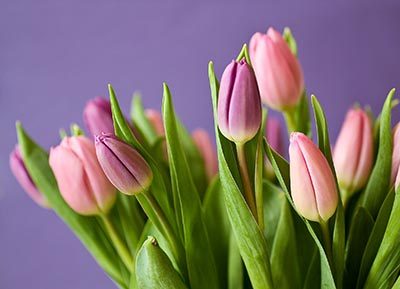 Tulip Meaning: Expressing Love and Affection
Due to their association with spring and new life, tulips make wonderful get well flowers. Send a bouquet with pink tulips to symbolize your affection and caring or send yellow tulips to bring cheerfulness to those recovering from illness. Orange tulips can be a great pick-me-up and source of inspiration for those who are ill.
Tulip Meaning in Romance
Tulips are second only to roses for love and romance. Send a bouquet featuring tulips when you want to send something memorable and unique to your Valentine. Try a bouquet of pink tulips or red tulips to express your affection and love. Other good choices for Valentine's Day flowers include yellow or multicolored tulips.
Tulip Meaning for Weddings
Tulips also have a surprisingly long history of use as wedding flowers—for table centerpieces, general wedding decor and as bridal bouquets. Cut tulips can wilt, so the stems should be relatively short and the flowers kept in water as long as possible.
Tulips are an elegant and classical choice for weddings, particularly a spring wedding. Tulips with variegated colors and ruffled tulips can create a striking, modern look for a wedding centerpiece.
Potted tulips or tulip bulbs can be given as wedding favors, especially red tulips symbolizing the love of the newly wedded couple. Pink tulips are also a wonderful choice for wedding flowers.
Tulips as Sympathy Gifts
White tulips, peach tulips, green tulips and purple tulips have become popular choices for sympathy flowers. A bouquet with white tulips symbolizes the eternal rest of the departed. A white casket spray of tulips is both beautiful and elegant, especially when combined with white roses, carnations or lilies.
A bouquet with peach tulips conveys both affection and sympathy. An arrangement including green tulips expresses the assurance of the resurrection. A wreath with purple tulips expresses heartfelt sympathy.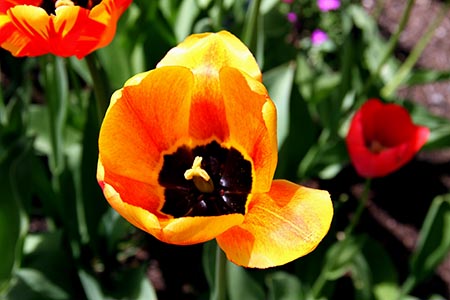 Tulip Origins and Name Meaning
Tulips are originally from Persia and were brought to the Netherlands in the 17th century. Approximately 150 varieties of tulips grow in the wild, especially in mountainous, cold regions. Once the tulip was hybrid, a vast array of colors and petal forms were created. The name for tulips comes from the headdress worn by many Middle Eastern peoples known as a turban or taliban. In Latin, this translates to "tulipa."

The History of Tulipmania
In the years 1636-37, tulipmania ruled in the Netherlands. Tulips were a symbol of wealth and status and were traded like currency. A bed of tulips could buy a small house. Some highly prized tulips were even more valuable and a single bulb could be traded for a large house and all of the land, furniture and other accessories.
The most highly prized tulips had breaks or stripes in their coloration. Striped tulips were actually the result of a virus transferred by aphids, which made their appearance unpredictable. When the tulip market crashed, it was similar to the stock market crash in the 20th century. Thousands of businessmen were ruined when the bubble burst.
Tulips as the National Symbol of Holland
Tulips, however, remain the foremost national symbol of Holland, rivaling wooden shoes and windmills. Tulips need to be fertilized twice a year, especially in the spring before they blossom. Tulips also need lots of water, with watering once a week at the bare minimum. Also be aware that rabbits, squirrels and voles will uproot and eat tulip bulbs if they can.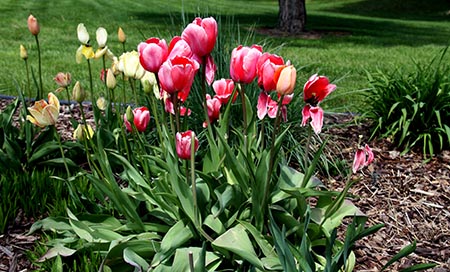 Growing Tulips
The bulbs should be planted at a depth that is three times their height. Tulips generally prefer sun but also do well under trees that give them partial shade in the hottest part of the summer. Tulips are planted in the fall and bulbs are generally available between July and November. The huge rainbow of tulip colors available make them a certain fit for any garden.
Tulips can also be grown in pots or small containers for those who have limited garden space. A terra cotta or ceramic pot is preferable to plastic. Plastic pots may overheat or have insufficient drainage. Since tulips prefer sun and will do well on sunny porches or balconies.

Author Kathleen Karlsen
Kathleen Karlsen is a musician, artist, writer and speaker. She is the author of two books (Flower Symbols and Vocal Medicine) and over 200 articles. Kathleen, her husband Andrew and their five children live in Bozeman, Montana. More about Kathleen Karlsen.
TULIP ARTICLE SUMMARY
Tulips are beloved the world around! This article covers tulip meaning for all kinds of celebrations and holidays. Tulips are heralds of spring that come in many colors. Each colors also has symbolic significance. Learn more about tulip meaning for modern living.
Share this article with a friend today!