Orchid Meaning throughout the World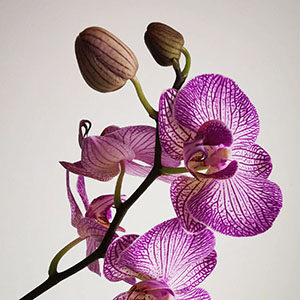 Orchid flower meaning around the world is love, beauty, refinement, many children, thoughtfulness and mature charm. Find other flowers meaning beauty and love. Read more about violet flower color meaning.
Orchid Meaning in Greece
Orchids were associated with fertility in ancient Greece. If a man ate large orchid tubers, his wife would give birth to a boy. If the woman ate smaller tubers, she would give birth to a girl.
The name orchid is derived from "orkhis," a Greek word associated with male anatomy. Accordingly, orchids mean virility and sexuality.
Orchid Meaning in China
In traditional Chinese culture, orchids mean good taste, integrity, elegance and friendship. As a rare, tropical plant, the orchid also means wealth and fortune. Orchids can be a symbol of a married couple. in this context, orchids symbolize unity. The orchid is one of the four flowers representing each of the seasons: flowering cherry for winter, orchid for spring, bamboo for summer and chrysanthemum for fall.
Orchid Meaning and Popularity
Exotic orchids have inherent meaning due to their unique forms and varieties. Orchids have become a major market throughout the world. Buyers now bid hundreds of dollars on new hybrids or improved ones. Orchids are also one of the most popular cut flowers on the market.
There are nearly 22,000 types of orchids and they grow in nearly every climate on earth save deserts and glaciers. There are hundreds of societies and clubs worldwide dedicated to the study and cultivation or orchids.
Growing Orchids
When gardening orchid flowers, important points to remember are that orchids can grow in cool, intermediate and warm climates. They generally do not prefer excessive direct sunlight. Many types of orchids can be grown in pots as well—just be sure they get enough moisture as the soil in the pots can tend to dry out faster than the soil in gardens.
Fertilizer can assist orchids, but they do not require full strength with most brands. For indoor plants, a plate or saucer under the plant with a little water will help to humidify the air around the orchid. Also, make sure that the temperature in your home does not drop too much at night for warm-loving orchids.
The grass orchid is a delicate orchid with a gentle fragrance. The grass orchid usually grows in wild places largely untouched by man. The grass orchid is a favorite flower in oriental brush painting.
The information in this article has been excerpted from the book Flower Symbols: The Language of Love by Kathleen Karlsen. This book includes ancient and modern flower meanings and folklore about the world's most beloved flowers. Buy one for a flower lover in your life. Learn to "say it with flowers" for any occasion! 
Over 100 of the world's most beloved flowers
Information about traditional uses of flowers
Famous quotes about flowers
Selected flower-related poetry
Flower remedies and essential oils for healing 
Selected Floral Art & Gifts
Brighten up any space with gifts and decor featuring beautiful flowers! Find posters, canvas prints, coffee mugs and more. All products made in the United States. 
Other Flower Resources on the Web