Marigold Meaning in Romance, Astrology and Religion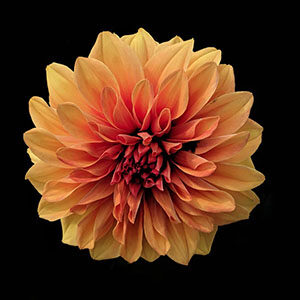 Marigold meaning includes passion, creativity and happiness. Marigolds are known as the "Herb of the Sun." The Welsh believed that if marigolds were not open early in the morning, then a storm was on the way. Learn about other flowers meaning happiness.
Marigold meaning further extends into the realm of romance. Marigolds have been used as love charms and incorporated into wedding garlands.
The marigold is a hardy plant with yellow, orange or rusty red blooms. The blossoms can be used to make a yellow dye for fabric. Learn more about Flower Color Meaning.
Marigold Meaning in the Spirit Realm
Marigold meaning also connects to the unseen realm of the spirit. In some cultures, marigold flowers have been added to pillows to encourage prophetic or psychic dreams. Water made from marigolds is thought to induce psychic visions of fairies if rubbed on the eyelids.
Other marigold meanings include cruelty and jealously. On the other hand, marigolds are thought to be effective in stopping gossip. Marigolds are viewed as an anti-dote for the sharp-tongued. In this way, marigold meaning includes the promotion of cheery conversations.
Marigold Meaning in Astrology
Marigold meaning is connected to astrology. The marigold is also associated with the lion and the astrological sign Leo.
This connection is likely due to the sun-like appearance of the marigold. Those with a Leo sun sign are said to be generous, big-hearted and sunny in nature.
Marigold Photo Credit Kathleen Karlsen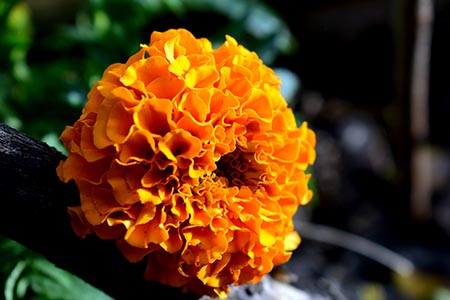 Marigold Meaning in Religion
In the religious realm, early Christians named the flower "Mary's Gold." This marigold meaning was quite literal: marigold blossoms were offered in place of money at the foot of statues of the Virgin Mary.
The Portuguese introduced marigolds and marigold meaning into India. The flower was offered to the Hindu gods Vishnu and Lakshmi. Vishnu and Lakshmi are associated with wealth and abundance in the Hindu tradition.
The marigold was also considered to have sacred meanings among the Aztec Indians, who decorated their temples with the flower.
Marigold Flowers for Healing
The marigold was once thought to protect against the plague. Marigolds are part of the calendula family, known for healing properties. The leaves of marigolds have been used to remove warts. 
Eating Marigold Flowers
Chickens eating marigold-enriched feed produce eggs with a deep yellow color. The flesh of chickens who have been fed marigolds also take on a rich color to make them more appealing for human consumption. Marigold flowers are quite edible for humans, too, and are often used in egg and cheese dishes.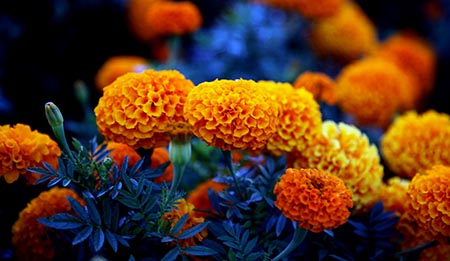 Marigold Facts
Marigold flowers can be found in Europe, Africa and the Americas. Marigolds can adapt to a wide range of conditions, but prefer full sun and rich soils. Marigolds are also grown and harvested in Mexico to be added to chicken feed.
Gardening with Marigolds
Marigolds have what many people consider to be a disagreeable odor. Some varieties have been bred to be odor-free, but this negates their use as a plant that wards off insects in gardens. Marigolds are grown from seeds and range in height from 6 to 36 inches. The blossoms can be from 1/2 inch to 5 inches across.
The information in this article has been excerpted from the book Flower Symbols: The Language of Love by Kathleen Karlsen. This book includes ancient and modern flower meanings and folklore about the world's most beloved flowers. Buy one for a flower lover in your life. Learn to "say it with flowers" for any occasion! 
Over 100 of the world's most beloved flowers
Information about traditional uses of flowers
Famous quotes about flowers
Selected flower-related poetry
Flower remedies and essential oils for healing 
Selected Floral Art & Gifts
Brighten up any space with gifts and decor featuring beautiful flowers! Find posters, canvas prints, coffee mugs and more. All products made in the United States. 
Other Flower Resources on the Web