Share with a friend today!
Saraswati: Hindu Goddess of Music and Wisdom
Saraswati is the Hindu goddess of wisdom, music and the arts. Here is a beautiful legend about Saraswati: A famous Brahmin scholar had a son who was good-hearted but a failure as a scholar. As a result, he was set to tasks of manual labor: cleaning, carrying water and so forth. One day he saw a beautiful young woman in distress by the river. He thought perhaps she had been robbed or abandoned by her family.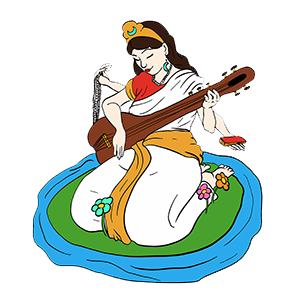 The young man rescued her and took her home to give her water and food. As she left the home in deep gratitude, she turned and touched her finger to his tongue. He began to recite complex and subtle poetry in Sanskrit and became a famous orator. The young maiden was Saraswati.
The words to this Saraswati Mantra are "Om Aim Saraswati, Mahadevi Saraswati." The general meaning is, " Homage to Saraswati, highest form of the Divine Mother." A word by word translation follows below:
OM: OM is often included at the beginning of a mantra to clear the mind for meditation. OM is said to draw the energy from the bottom of the spine to the top of the head. The energy of OM is one of expansion and ascension. In terms of healing, OM brings prana into the subconscious mind. OM is the sound of the sun and sheds light on addictive tendencies and negative emotions, bringing them to light for healing and transmutation.
AIM: AIM (ieem) is the feminine counterpart of the bija mantra OM. The "AI" in AIM is pronounced "eye." AIM is a manifest form of OM, that which is created and seen versus that which is purely in consciousness. AIM is the supreme shakti or feminine force known as Adi Shakti. AIM appears in many mantras to the goddesses and the Divine Mother. AIM is the seed mantra of Saraswati
SARASWATI: Saraswati, goddess of knowledge, wisdom, music, art and speech. Saraswati is revered in Hinduism, Jainism and some Buddhist sects. Her name means "one who leads to the essence of self-knowledge."
MAHADEVI: Mahadevi means the highest or best form of God as the Divine Feminine or Goddess. "Maha" means "greatest or best." Devi means god in a feminine form. Deva would be the counterpart of God in a masculine form.
Kathleen's Books
Vocal Medicine reveals Kathleen Karlsen's personal journey and years of research into mantras, chanting and kirtan. Learn more about using mantras and singing to invigorate your life! Explore the chakras and the impact of sound in every area of your life. 
Flower Symbols by Kathleen Karlsen features fascinating information about the folklore of the world's most beloved flowers. Flowers accompany us in nearly every major event in life. This book is a perfect gift for every flower lover in your life! 
Deities of East and West including Hindu gods and goddesses, angels, nature spirits and buddhas. Unique inspirational artwork from multiple traditions. Produced in the United States. Flat rate shipping $4.95 per order (US only), unlimited items. Wholesale pricing available on request.
Saraswati Article Summary
Saraswati is the Hindu goddess of wisdom, music and the arts. The words to this Saraswati Mantra are "Om Aim Saraswati, Mahadevi Saraswati." The general meaning is, " Homage to Saraswati, highest form of the Divine Mother."