Foxglove Meaning in Myth and Science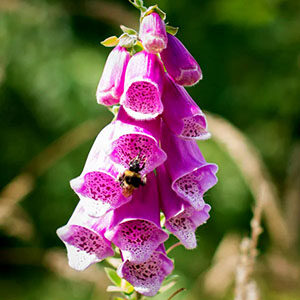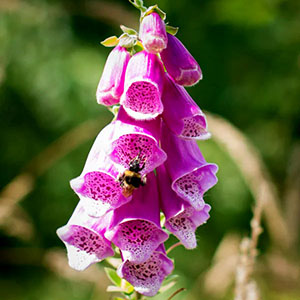 Foxglove flower meaning is both positive and negative. They are said to sometimes hurt and sometimes heal. In the language of flowers, foxglove is associated with insincerity and immortality. Find other flowers meaning immortality. Read more about purple flower color meaning.
Foxglove Meaning and Common Names
The common name is said to come from "folk's gloves," with "folk" referring to fairy folk. Another theory is that fox wore the gloves so they would not be caught raiding a chicken coop. Rumor also has it that picking foxglove off ends the fairy folk. Most likely, this tale was told to children to keep them away from the poisonous plant. Another possible origin of the name is due to its similarity to an ancient bell-shaped musical instrument, the fox's glew. 
Foxglove Meaning in the Middle Ages
In medieval gardens dedicated to the Virgin Mary, foxglove was called "Our Lady's Gloves" or "gloves of the Virgin." Foxgloves come in white, yellow, pink, rose, red, lavender and purple. Foxglove can be grown either through seeds or divisions of plant clumps.
Foxglove Meaning and 

Science

The scientific name is digitalis, a reference to the presence of powerful chemicals that can heal heart conditions if taken correctly but can kill if taken in large amounts.

The danger of these compounds is reflected in other names for the foxglove, including dead man's bells and witch's gloves. The flower is fatal enough that children have died from drinking the water in a vase containing foxglove flowers.

On the positive, the digitalis from foxglove plants is used therapeutically to increase heart contractions and to regulate fast or irregular heartbeats. It is often prescribed for patients with arterial fibrillation. The active compounds are extracted from the leaves in the second year of growth. The purified chemicals are referred to as digitoxin. Too much digitalis causes anorexia, nausea, diarrhea and blurred vision.
Growing Foxglove Flowers
Foxglove thrives in soil that is rich in iron and coal. New coal fields can sometimes be located by finding masses of foxgloves growing together. Foxgloves thrive in temperate zones and like shade, part shade and sun.
They do not flower the first year, but flower the second and subsequent years. Their height (2-5') makes them wonderful plants for the back row of a garden.
Foxglove plants often reseed themselves. They like moist soil, but also need adequate drainage. Foxgloves grow quickly and are rarely susceptible to insects.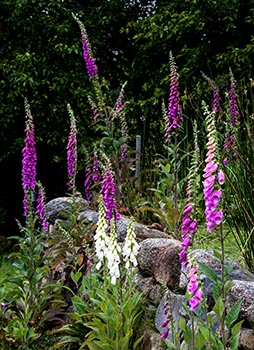 Foxglove Blossoms
Foxglove blooms will be bigger if they are fertilized. Foxgloves bloom in a pyramid shape with the lowest blossoms opening first and the buds remaining closed at the top.
The information in this article has been excerpted from the book Flower Symbols: The Language of Love by Kathleen Karlsen. This book includes ancient and modern flower meanings and folklore about the world's most beloved flowers. Buy one for a flower lover in your life. Learn to "say it with flowers" for any occasion! 
Over 100 of the world's most beloved flowers
Information about traditional uses of flowers
Famous quotes about flowers
Selected flower-related poetry
Flower remedies and essential oils for healing 
Selected Floral Art & Gifts
Brighten up any space with gifts and decor featuring beautiful flowers! Find posters, canvas prints, coffee mugs and more. All products made in the United States. 
Other Flower Resources on the Web