Share with a friend today!
The following flower symbol links provide a deeper dive into the meaning and history of specific popular flowers. Explore the meaning of many flower names. Learn about the role that bluebells play in the fairy kingdom. Or the contrasting flower symbols connected to poppies. Find comfort and inspiration in the beauty and rich history of flower symbols! Links to all specific flower symbols articles below.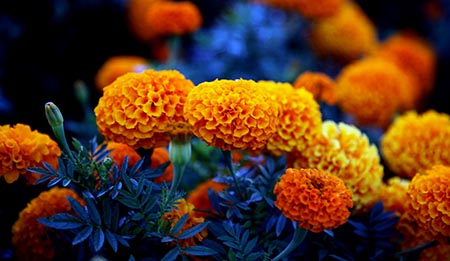 Marigolds derive their name from the practice of placing them at the feet of statues of the Virgin Mary. Gold was preferred by the church but those too poor to give gold would offer these beautiful golden flowers. On the other hand, marigolds have been used as love charms and wedding flowers. They were also believed to offer protection from the plague.
Learn more about this fascinating flower! Read full article on Marigold Meaning in Romance, Astrology and Religion. 
Share with a friend today!