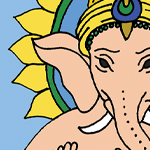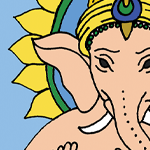 Spiritual symbols, nature symbols, flower meanings and more. Learn about the chakras, world religions, yantras, symbolic art, nature symbols and the language of flowers. 
Easy listing and locator for all music videos as well as explanations of mantras and songs. Includes Eastern and Western devotional music as well as traditional chants.
Articles and resources including unique tools and experiences in the creative arts. Includes mantras, visualization, symbolic art, affirmations, color therapy and spiritual psychology.
Discover nature symbols in art, mythology and spirituality. Nature symbols are among mankind's oldest representations of the energies of the universe.
Gifts featuring symbolic art including yantras, Eastern deities, chakra symbols, symbolic flowers and more. Find posters, coffee mugs and prints in multiple sizes.
Experience mantras and sacred art as powerful tools for self-transformation! Workshops, retreats and kirtan events. Lyrics and instruction provided as needed. All are welcome. 
A compilation of all pages on this website. Find resources for symbolism, mantras and sacred art. Extensive info on topics related to mysticism, health and spirituality.