Learn to use mantras and songs to create a happy heart, a clear mind and a rejuvenated body! Go deeper into the science of chanting, mantras and the power of sacred music.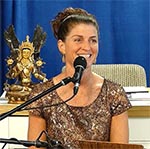 An introduction to mantras and the concept of seed syllables. Free mantra course includes over 90 minutes of videos in 10 segments featuring full-color illustrations, artwork and mantra lyrics.

Explore the meaning behind the music in these articles on specific mantras, the practice of kirtan, Eastern deities and more. Learn about the scientific basis of the positive effects of singing.
Vocal Medicine album tracks for listening, chanting and meditation. "Vocal Medicine" is a reference to the psychological, emotional and health-supporting benefits of mantras.