Meaning of a Rose in History, Art and Culture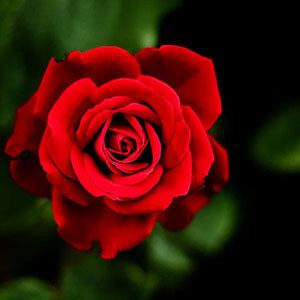 The meaning of a rose includes remembrance, passion (red); purity (white); happiness (pink); friendship (yellow); unconscious beauty, and I love you. Find other flowers meaning beauty,  happiness, love and friendship.  
Meaning of a Rose in Christian Art
Wild roses have five petals. This has led to their symbolic connection to the wounds of Christ in Christian iconography. The rose also symbolizes the Virgin Mary herself, who was known as the "Mystic Rose." Read more about red flower color meaning.
Meaning of a Rose in History
There are fossil records dating roses back some 35 million years. Roses are native to the United States. Montana and Oregon have the oldest rose fossils.
The rose has the most complex family tree of any known flower species with over 30,000 varieties. Roses were first cultivated 5,000 years ago in Asian gardens. In the Orient, ladies carried rose petals in their purses and gentlemen made wine and herbal medicine with the flowers.
Along with the name Orchid, Rose is one of the most popular names for girls in China. Confucius wrote that the emperor of China owned over 600 books on the cultivation of roses.
Meaning of a Rose in Europe
Roses were introduced to Europe during the Roman Empire and were thereafter used for ornamental purposes. Romans were known to carpet huge banquet halls with rose petals. Experts divide roses into two groups. "Old roses" are those cultivated in Europe before 1800. "Modern roses" have been cultivated since about the turn of the 19th century. Before cultivation, roses typically bloomed only once per year. Now roses are blooming somewhere every day of the year.
Sunday Roses Painting by Kathleen Karlsen
Author's Note: My paternal great-grandmother was named Rose. My maternal grandmother was known for her incredible rose bushes that grew two stories high outside her apartment. When my daughter was born, we named her Rose!
See art and gifts featuring roses and more!
Meaning of a Rose in Song and Literature
Over 4,000 songs have been written about roses. Roses are also the inspiration for everything from wallpaper to china patterns to fabric designs. Roses are a recurring theme in artwork, furniture, architecture and poetry.
Shakespeare mentions the rose at least 70 times in his plays and sonnets. Roses are emblems of England and New York City. The essential oils from roses are more expensive than the essential oils of any other flower. The rose is, indeed, the queen of all flowers.
The information in this article has been excerpted from the book Flower Symbols: The Language of Love by Kathleen Karlsen. This book includes ancient and modern flower meanings and folklore about the world's most beloved flowers. Buy one for a flower lover in your life. Learn to "say it with flowers" for any occasion! 
Over 100 of the world's most beloved flowers
Information about traditional uses of flowers
Famous quotes about flowers
Selected flower-related poetry
Flower remedies and essential oils for healing 
Selected Floral Art & Gifts
Brighten up any space with gifts and decor featuring beautiful flowers! Find posters, canvas prints, coffee mugs and more. All products made in the United States. 
Other Flower Resources on the Web