Sacred Music, Kirtan & Mantra Yoga Events
Kirtan events feature devotional singing in a group format. Although singing is part of every spiritual tradition, this particular form originated in India. Kirtan is now gaining popularity in the Western world. The word "kirtan" (pronounced KEER-tun or KEER-tahn) comes from Sanskrit. Kirtan specifically refers to the practice of singing the names of God, usually in the form of mantras. 
The events listed here are led by Kathleen Karlsen. Some events involve other kirtan leaders and musicians. Locations for events are indicated in the descriptions. Kathleen Karlsen is based in Bozeman, Montana. Learn more about kirtan in Everything About Kirtan. Learn more about mantras in Mantra Yoga: Sacred Formulas. More information about What to Expect at Mantra and Kirtan Events. 
Workshop at the 406 Yoga Conference
Come to experience a mantra workshop at the 406 Yoga Conference in Bozeman, Montana! Full information on the conference and registration can be found at 406yogaconference.com.
Time: 11:10am-12:10pm
Date: Sunday, October 16, 2022 
Location: Best Western Plus GranTree Inn 
Address: 1325 N 7th Ave, Bozeman
Upcoming Events: Livingston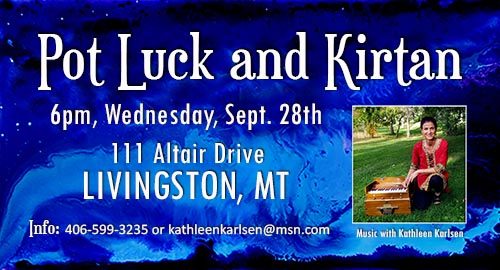 Kirtan & Pot Luck in Livingston: Wed, Sept. 28
Come join us for community and sacred music! Pot luck at 6pm, music at 7pm. Bring family, friends and a favorite dish to share. Music with Kathleen Karlsen & others. Donations welcome. No charge.
Location: 111 Altair Drive in Livingston, Montana. 
Date: Wednesday,September 28, 2022
Time: 6pm
Contact Kathleen Karlsen at 406-599-3235 for more info. 
Related Resources on This Site