Healing Power of Flower Art
Flower art has been a popular since humankind began to create art! The love of flowers crosses all cultural and historic boundaries. Flowers have inspired and fascinated mankind as long as history has existed. Flowers accompany us is every major event in life. Science is now proving that flower art can uplift, speed recovery, reduce stress and comfort the viewer. 
Can the decor in a room help relieve stress? A 1996 study conducted by Virginia Lohr and others showed that rooms and offices decorated with plants and flowers helped reduce stress as measured by decreased blood pressure and pulse rates. Researchers have further determined that there is a direct link between flowers and life satisfaction.
A study done at Rutgers demonstrated that flowers decrease anxiety, depression and agitation. Flowers also lead to a higher sense of enjoyment and increased contact with family and friends. Flowers make a home more welcoming and create a sharing atmosphere.
Additional research by Diane Relf of the Virginia Polytechnic Institute has shown that people communicate better in the presence of flowers or plants and they tend to eat more slowly. Others studies focused specifically on seniors and tracked improvements in memory in the presence of flowers.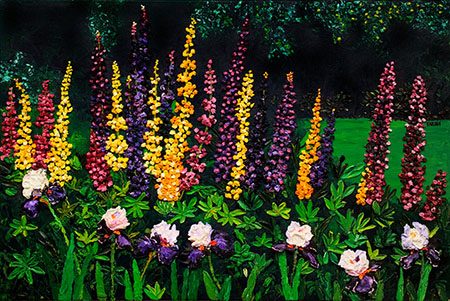 Flower Art for an Uplifting Interior
By decorating your home or office with flower paintings rather than fresh flowers, you introduce flowers into your decor that will never fade. Having flowers as a permanent element into your home can be a positive influence for both inhabitants and visitors. With all of the prints and posters available today, choose a flower painting to decorate any area of your home or business is relatively easy.
Floral paintings can be used in almost every area of a home or business. Small flower paintings are perfect for bathrooms, hallways, entryways or bedrooms. Large flower paintings add cheer and color to dining rooms, living rooms and family rooms. For businesses or offices, flower paintings are traditional for waiting areas and reception areas. Flowers have universal appeal and work well in just about any decor to lower stress and uplift everyone's mood!
Flower Art for Children's Rooms and Nurseries
When it comes to decorating a room for a child or baby, images of nature are ideal. Although cartoon characters and larger-than-life murals are popular for children's rooms, studies done in children's hospitals have shown that these images can actually be distressing and frightening for small children.
Research indicates that images of nature are more soothing and restful and provide a positive stimulation for both babies and young children. Babies and children also prefer strong colors. Bright, cheerful images featuring primary colors (red, blue, yellow) and secondary colors (green, orange and purple) are good choices for nurseries and children's rooms.
When decorating with flower art, both sweet peas and bluebells are traditionally associated with babies. Sweet peas are usually for girls and bluebells for boys. Sweet peas are symbolic of delicate pleasure.  Bluebells are symbolic of humility and gratitude. Bluebells are also associated with fairies and are sometimes called "fairy thimbles." Learn more in our articles on Sweet Pea Flower Meaning and Bluebell Flower Meaning.
Flower Art for Long-Term Care & Hospitals
Appropriate gifts for long-term care and hospital patients involve a number of considerations: tight storage space, limited display space and the need for comfort and beauty.
Small pieces of art and other decorative items also make perfect gifts for long-term care and hospital patients with limited display space. Artwork intended for tabletop display is a good choice as well as small decorative plaques or miniature art. Sizes from 3×5″ to 8×10″ will probably be the best. These pieces of artwork could be designed either for tabletop or wall display and can be displayed singly or in small groups.

In addition, art can have therapeutic value for long-term care patients and hospital patients. Research has shown that images of nature: reduce stress and mental fatigue, speed recovery from illness, relieve depression, reduce negative emotions, lower blood pressure, reduce muscular tension and increase brain activity in the alpha range.
Nature images dominated by water or trees and flower art can have healing effects and make wonderful gifts for long-term care and hospital patients. Florence Nightingale was among the first believers in attractive surroundings for patients and claimed that she had witnessed the sight of beautiful flowers directly reducing a fever!
The colors used in art can also have therapeutic value. Warm colors (red, yellow and orange) can be used to alleviate depression and to stimulate metabolism. An image of marigolds would be an appropriate choice to introduce warm colors.
Cool colors (green, blue and purple) can help to offset fevers, relieve exhaustion and encourage relaxation. Lupines, irises and bluebells would be good options for flower art in the cooling color range. Give a patient a long-term lift with beautiful flower art!

Author Kathleen Karlsen
Kathleen Karlsen is a musician, artist, writer and speaker. She is the author of two books (Flower Symbols and Vocal Medicine) and over 200 articles. Kathleen, her husband Andrew and their five children live in Bozeman, Montana. More about Kathleen Karlsen.
Floral Art & Gifts
Brighten up any space with gifts and décor featuring beautiful flowers! Find posters, prints, canvases and more. See all floral art & gifts. Other prints and gifts include yoga symbols, Eastern deities, yantras, universe art, landscapes, sun paintings and more. See All Products & Gifts.

FLOWER ART ARTICLE SUMMARY
Scientific studies have demonstrated that flower art can help to reduce stress and speed healing. Flower art works well in homes and offices as well as hospitals and long-term care facilities. Studies of art for children and babies demonstrates that bright colors and images drawn from nature are preferable to cartoon figures. Flower art has universal appeal and positive impacts in all types of indoor environments!
Share with a friend today!
New resources each week.
SUBSCRIBE in the footer below
for notifications.