Share with a friend today!
Kathleen Karlsen shares her life experiences, research and thoughts in nearly 200 published articles, including many on this website under All Articles. More recently, she has created a YouTube channel featuring mantras, personal stories and commentary. 
Kathleen is a musician, artist, writer and speaker. She is the author of two books: Flower Symbols (2011) and Vocal Medicine (2019). Kathleen has held over 70 exhibits of her colorful paintings and led over 500 musical events.
Kathleen and her husband Andrew live in Bozeman, Montana near the beautiful Bridger Mountains. They have five children (teen through adult) and a small urban homestead with extensive gardens. 
Discover music as vocal medicine for body and spirit! Explore singing a spiritual practice through devotional chanting and singing with Kathleen Karlsen. Learn mantras and sacred songs from Eastern and Western traditions including Kathleen's original music.
Singing and mantras benefit the brain, body and spirit in multiple ways. Studies show that singing dissipates feelings of loneliness and increases feel-good chemicals including dopamine and oxytocin. Singing together has been shown to be effective for the alleviation of social anxiety and depression.
Mantras are an ancient science and a perfect calorie-free, drug-free approach to supporting overall wellness in the modern world. Learn to use the science of mantras to create a happy heart, a clear mind and a rejuvenated body.
Listen to Kathleen's Vocal Medicine Album. Learn more about Mantras and Kirtan. Read about Kathleen's Journey with Mantras.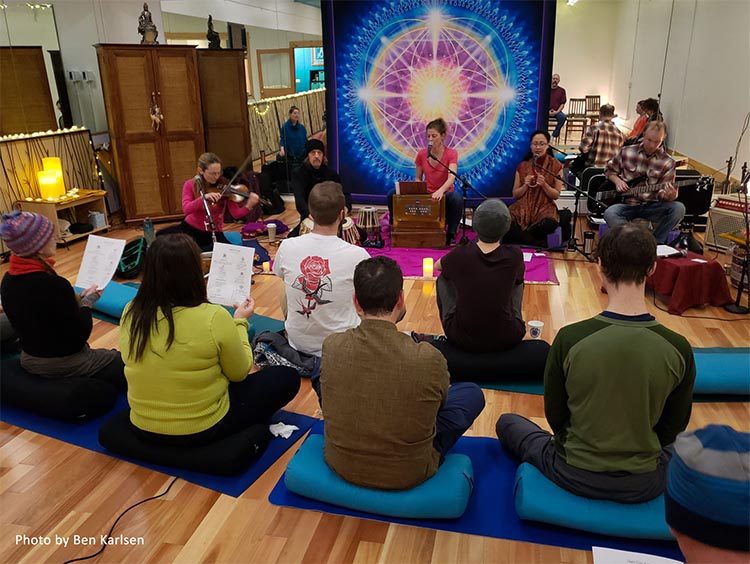 Kathleen's interest in art and particularly in symbolism blossomed throughout her high school and college years. Her fascination with color and form led her from graphic design to portraiture to florals, landscapes and depictions of the universe. 
Kathleen's recent endeavors have focused on the sun, stars, moon and galaxies in the endless expanse of the universe. Kathleen's combination of flowing contours and layered colors emphasize the wide reaches of space. Her goal is to produce an energizing, spontaneous and inspiring experience for the viewer.
In addition, Kathleen is working in with talented young illustrators to create sacred symbols and depictions of various deities, mostly in the Hindu and Buddhist traditions. These illustrations are by Rose Karlsen and Sammy Ater. Learn more about Symbolic Art and see posters, prints and more at Products & Gifts.  
Events, Workshops and Retreats
Experience mantras as powerful tools for self-transformation! Workshops, retreats and kirtan events. No prior experience required. Lyrics and instruction provided as needed. All are welcome. Contact Kathleen Karlsen with questions or for more information.
Kirtan events feature devotional singing in a group format. Although singing is part of every spiritual tradition, this particular format originated in India. Kirtan is now gaining popularity in the Western world. The word "kirtan" comes from Sanskrit. Kirtan specifically refers to the practice of singing the names of God, usually in the form of mantras. Learn more about Kirtan.
Mantra workshops and retreats are an opportunity to take a deeper dive into the power of mantras. Workshops also include the role of sacred art, color and related modalities. Workshops are a chance to ask questions and have the intimacy of discussions in a small group format. More at Workshops and Retreats. In-person events are held in Montana and surrounding areas. Visit our Events page for detailed information.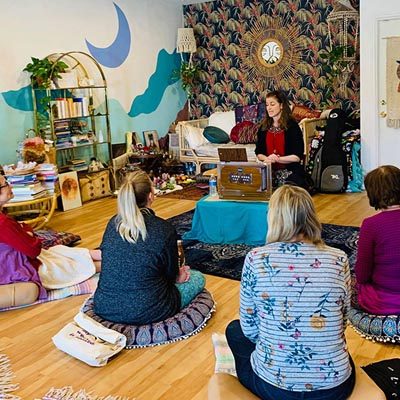 Kathleen's childhood took an unexpected and dramatic turn just after her 6th birthday. Her father barely survived a full-speed plane crash while testing F-4 fighter jets for the Air Force. The plane had a mechanical failure in the midst of a full loop.
Watching him recover for the next three years was a day-by-day lesson in discipline and determination. By the time Kathleen was in high school, her father had taken up jogging. This was in spite of medical opinions after the crash that he'd never be able to run.
By the time Kathleen reached college, he was running marathons. His example has been a tremendous influence in her life. This video tells the story of his incredible recovery. 
Do Not Marry a Man You Saw in a Dream
I saw the man I was going to marry in a dream. This is the story of what happened when I married someone I hardly knew. A recollection of my life as an idealistic and impulsive youth.
Lesson learned: Faith in anything– dreams, psychics, astrology, gurus, religions, counselors, friends, books– does not exonerate one's personal responsibility. Adulting isn't easy.
Every experience leads us onward, though minimizing the drama might be a good idea. And having the guts to admit when you've made a mistake.
Created July 2022. Thanks to Joey Karlsen and Andrew Karlsen for editing and assistance. More videos on Kathleen's YouTube channel.
Pursuing a Spiritual Path
Kathleen's spiritual path has been her focus since her early teenage years. After experiencing abuse by a Catholic priest, she began to search with great intensity to find a God outside of her childhood religion. This search took her through a wide array of beliefs. In the following decades, Kathleen read extensively in the arenas of world religions, metaphysical literature and alternative healing.
Kathleen began to attend spiritual  conferences and every available religious organization as a teenager. She lived in three different spiritual communities over the course of a decade. During this time, she pursued many hours of daily spiritual practice and lived under strict monastic disciplines. This video tells the story of her spiritual journey. Read the entire story at Finding God After Abuse.
Education and Professional Certifications
Kathleen holds a BA in studio art and an MA in humanities. Her graduate research culminated in her thesis entitled The Color-Music Connection: Philosophical, Aesthetic and Scientific Perspectives. She has also completed a year of doctoral studies in adult education. Kathleen holds numerous professional certifications in business management and in a variety of alternative health modalities.
Kathleen's voice over work includes training videos for companies with an international client base. Kathleen has narrated over 3,000 educational videos. Her clear, comforting voice leads the listener step-by-step through complex tasks. Kathleen has the ability to transform complex topics into an easy-to-understand narrative. Kathleen's goal is always to support, inform and uplift her audience. 
Making a Home in Bozeman, Montana
Kathleen and her husband Andrew have made Bozeman, Montana their home for the last three decades. All five of their children have been raised in this beautiful little town, growing up with the opportunity to ski and hike, surrounded by mountains in every direction.
Bozeman has enough big town amenities to keep you happy in a small town setting. Montana State University adds sporting events, musical events and a wide array of educational opportunities.
If you are looking to live in a place with fantastic scenery, great outdoor activities and a wholesome family environment, consider this growing town nestled in the mountains not far from Big Sky, a world class ski resort. You'll find that the culture and arts in Bozeman are expanding as more people are attracted to this unique location. Learn more about Bozeman, Montana.
Interviews with Kathleen Karlsen
Kathleen's interviews include conversations with Geri Habstritt of Oneness Talk Radio and a Jacobus Hollewjin of Gesundheit: Health Talk Radio. The three hour interview on Gesundheit! radio show included a brief biographical history, Kathleen's spiritual path, her artwork and the concept of using the arts for self-transformation. Listen to radio interview clips.
My accounts with Facebook and Instagram have been censored for unspecified violations. Although I am still allowed to post images and videos, I am prohibited from boosting or promoting content or events. Facebook refuses to provide insights into their concerns. This type of inexplicable control has led me to search for other platforms. Please visit my channels on Locals.com and Rumble.com. 
Share with a friend today!